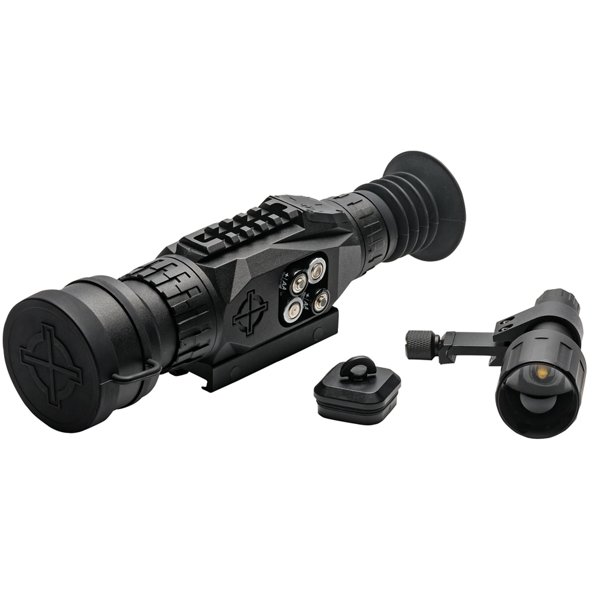 Sightmark Wraith HD 4-32x50 Digital Riflescope only $499.99
We have had more than a few folks call in reference to this digital riflescope so we decided to bring some in for stock. It's a very interesting unit...
See the future in high definition with the new Sightmark Wraith 4-32x50mm Digital Riflescope. Hunt with an advanced 1920x1080 HD sensor providing full-color clarity in daytime; simply hit the left arrow to switch to night mode – with classic green or black and white viewing options. The Wraith comes with a removable 850nm IR illuminator to provide enhanced nighttime image quality and accurate target acquisition up to 200 yards at night. Customize your riflescope with 10 reticle options and 9 color choices to fit the needs of every shooter, 4.5-hours of battery life with 4 common AA batteries and an external MicroUSB port for added power. Wraiths also allow recording and video export. Share your favorite moments with family and friends.
Here is a link to a full detail page
Sightmark introduces its new revolutionary and versatile Wraith digital riflescope, the perfect scope for day and nighttime use. The high-resolution Wraith is designed for all hunting applications including hog, predator and even deer. Added features include a color mode for daytime shooting, black and white or classic green for nighttime use and comes complete with a removable 850nm IR Illuminator with an outstanding detection range of 200 yards. The Wraith also boasts 10 different reticles along with 9 different colors to choose from and features a 4x optical magnification with 8x digital zoom. This digital riflescope features a 1080p HD sensor for high resolution imaging, 1080p HD photo/video recording and is equipped with a micro SD memory card slot.
Powered by 4 AA batteries for up to 4.5 hours of battery life, the Wraith includes a micro USB power input for external power.
FEATURES:
• 1080P HD digital imaging
• Daytime color mode
• Night vision mode
• HD photo or video recording (memory card
not included)
• 8x digital zoom
• 10 reticle options with 9 colors
• Power input
• Additional Weaver rail for accessories
• 5 weapon profile saves
Sensor Resolution, pixels 1920x1080
Display Type FLCOS
Display Resolution, pixels 1280x720
Magnification 4x
Lens Diameter, mm 50
Digital Zoom 1-8x
Field of View,
[email protected]
18
Eye Relief, in/mm 2.4 / 60
IR Emitter LED
IR Wavelength, nm 850
NV Detection Range, yd/m 200yd / 183m
Battery Type 4xAA
Battery Life, hour 4.5
Dimensions, in/mm 10.5x1.875x3 /
266x63x75
Weight (with batteries), oz 36.3
Included in Package
IR flashlight
Objective lens cover
Fixed picatinny mount
User manual
We've got MANY other deals going on so please just give us a call, 516-217-1000, to discuss the Optic, Camera or Tripod you're looking for and we will hook you up.
Check out our Latest Sale Flyer for some great deals
If there is anything you're looking for please give us a call at 516-217-1000. It is always our pleasure to speak with you.
Always give a call to discuss options and what would be best for your needs
Have a great day & please follow us on Instagram at gr8fuldoug1
Thank you for your continued support.
If there is anything else that I can assist you with please let me know.
Doug
Camera Land
720 Old Bethpage Road
Old Bethpage, NY 11804
516-217-1000
Please visit our web site @
www.cameralandny.com