Discussion Starter
·
#1
·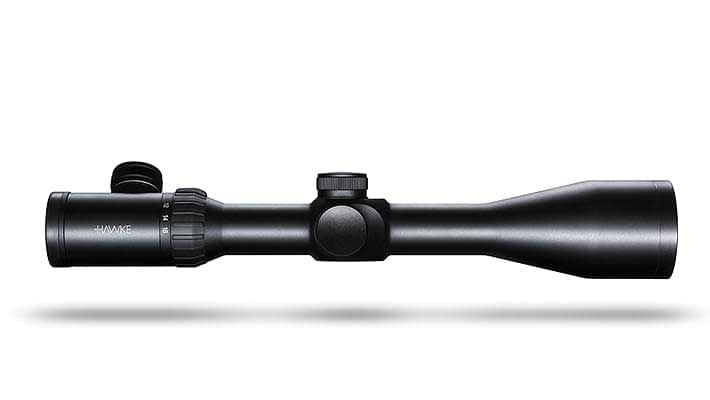 Hawke*Endurance 4-16x50 LR DOT #16250 reduced from $369.99 to only $219.99
Designed for long-range use with enhanced low-light capabilities, the Hawke Sport Optics 4-16x50 Endurance 30 SF Riflescope boasts a powerful zoom range and a side parallax turret with an adjustment range from 10 yards out to infinity. Its partially-illuminated duplex crosshair reticle is calibrated for use with powerful .30 caliber rounds with the outer posts and center hairs glass-etched to resist fading and shifting. In the center of the reticle is a simple 1.25 MOA red dot for precise shot placement and a stepless rheostat gives users absolute output control and optimal red dot brightness in all lighting conditions. This Endurance is designed with a long eye relief (LER) to give users ample recoil room when using magnum-caliber rifles.
Versus smaller objective scopes, the Hawke Endurance's 50mm objective and 16-layer anti-reflection, fully multi-coated optics draws in generous amounts of light. It provides you with bright and clear, high-contrast images during the pre-dawn and post-dusk hours when many game animals are most active, even if you have to stalk your prey through heavily canopied areas during those periods. A fast-focus collar, rubber-coated zoom ring, and knurled rheostat control allow you to quickly adapt to rapidly changing situations. Complementing the performance of the scope is a lightweight and durable anodized aluminum housing, with a robust 30mm one-piece maintube that is nitrogen-filled and O-ring sealed to be water and fogproof. To get the most out of the scopes long-range use, a 4" screw-on sun shade is included to reduce glare and increase image quality and a 1.5" removable side adjustment wheel can be installed on the turret for precise adjustments even when wearing gloves.
Optical Performance
4-16x zoom range
50mm objective lens
16-layer anti-reflection fully multi-coated optics improve contrast, color rendition, and overall image brightness
23-6.5' field of view at 100 yards
Reticle Details
Modified duplex crosshair-style reticle
Thick outer posts on horizontal and lower vertical axes
Thin center hairs, extending up the vertical axis
Broken center cross isolates aiming dot
14.32 MOA distance from dot to inside of posts
30" spacing from post to post at 100yds
Stadia marking on lower vertical axis at 2.3 / 5.6 / 9.63 / 14.32 MOA for ballistic drop compensation at distance
Partial illumination:
Stepless rheostat offers precise control of brightness setting
1.25 MOA illuminated center aiming dot
Placed on second focal plane, sub-tension set at 8x
Specifically designed for the ballistic specifications for .30 cal rounds including: .30-06, 7mm magnum, and .300 magnum
Runs on one included CR2032 coin-cell battery
Use and Handling
Fast-focus collar
High-torque zoom ring ensures the magnification doesn't change due to repeated recoils
1/4 MOA per click impact point correction
Broad 80 MOA windage and elevation adjustment range
Side parallax turret, adjustable from 10 yards to infinity
Finger-adjustable low-profile capped turrets prevent accidental adjustment
Removable 1.5" side wheel for fast and precise parallax adjustment, even when wearing gloves
Long 4" eye relief for use with magnum caliber rifles
Comfortable 13-3mm exit pupil
Construction Details
Sturdy 30mm one-piece maintube
Lightweight and durable aluminum alloy housing
Nitrogen-filled for water and fogproof performance
Rated for use on most calibers and recoil-resistant
Threaded ocular and objective for optional accessories
Anodized aluminum flip-up front and rear lens covers
4" screw-on sun shade
Length: 14 inches
Weight: 24.4 ounces
Specs:
Magnification 4-16x
Objective Lens Diameter 50mm
Maintube Diameter 30 mm
Reticle LR Dot duplex crosshair
Partially illuminated
Field of View 23.0 - 6.5' @ 100 yd / 7.7 - 2.2 m @ 100 m
Parallax Correction Side adjustment turret
Adjustable from 10 yd / 9 m to infinity
Eye Relief 4.0" / 10.2 cm
Exit Pupil Diameter 12 - 3 mm
Impact Point Correction 1/4 MOA per click
Windage/Elevation Adjustment 80 MOA
Weatherproofing Nitrogen-filled, water and fogproof
Battery 1 x CR0232
Length 14.0" / 35.6 cm
Weight 24.4 oz / 692.0 g
If there is anything you're looking for please give us a call at 516-217-1000. It is always our pleasure to speak with you.
Have a great day.
Thank you for your continued support.
If there is anything else that I can assist you with please let me know.
Doug
Camera Land
720 Old Bethpage Road
Old Bethpage, NY 11804
516-217-1000, 212-753-5128
Please visit our web site @
Cameras,Binoculars,*Spotting Scopes, Rifle Scopes | Camera Land NY
Long Islands Largest Camera and Sports Optics Superstore