Discussion Starter
·
#1
·
Athlon Midas 1-6x24 MOA Riflescopes reduced from $529.99 to only $249.99 while supply lasts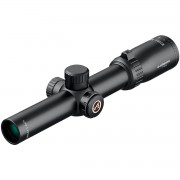 We are blowing out our remaining inventory of these scopes to clear room for whatever SHOT Show 2019 may bring.
Whether you are shooting prairie dogs at 700+ yards or you are shooting 3 gun that replicates life and death scenarios you want a rifle scope that is accurate, tough, durable and extremely versatile. You need a scope with the Midas touch, it makes every shot gold. The Athlon Midas BTR is ready for anything. It is also is equipped with our advanced multi-coating so you'll have the brightest, clearest long-distance image possible, in any situation. The innovative new XPL coated lenses gives you "Xtra Protective Lens" coating that protects you lenses from moisture, oil, dirt and smudges. The super-fast side parallax focus makes certain you have the clearest image in the world when it matters most. The ultra-strong one-piece tube is hammer-forged from an aircraft aluminum alloy for more strength than standard aluminum, multi-piece scope tubes. The 6x magnification ratio eliminates the needs for multiple scope for different game or types of hunting. No need for multiple scopes for multiple types of game animals.
This gives you an AMAZING opportunity to grab this fantastic scope, in your choice of:
Midas BTR 1-6x24 - ATSR16 SFP IR MOA
or
Midas BTR 1-6x24 - ATSR1 SFP IR MOA
This Midas BTR 1-6×24 is equipped with ATSR1 reticle that is specifically designed for 3 gun competition (68 grain Hornady and 69 grain Sierra cartridge) and any Nato 5.56/.223 caliber rifle with hold over points for both bullet drop and wind. The 1 moa center red dot is perfect for zeroing your rifle at 200 yard. You can use the open centers below the center red dot for targets at 300, 400, 500, and 600 yard. The unique design of open centers does not block any 12~18 inch targets beyond 200 yards and allows a shooter to take a quick shot once a target fills up the gap in the middle.
If you want something with a little more power we still have a few of the:
Midas BTR 2.5-15x50 - APMR1 SFP IR MIL reduced from $559.99 to only $249.99
or
Midas BTR 2.5-15x50 - APLR1 SFP IR MIL reduced from $569.99 to only $249.99
If there is anything you're looking for please give us a call at 516-217-1000. It is always our pleasure to speak with you.
Always give a call to discuss options and what would be best for your needs
Have a great day.
Thank you for your continued support.
If there is anything else that I can assist you with please let me know.
Doug
Camera Land
720 Old Bethpage Road
Old Bethpage, NY 11804
516-217-1000, 212-753-5128
Please visit our web site @
Cameras,Binoculars, Spotting Scopes, Rifle Scopes | Camera Land NY
Long Islands Largest Camera and Sports Optics Superstore