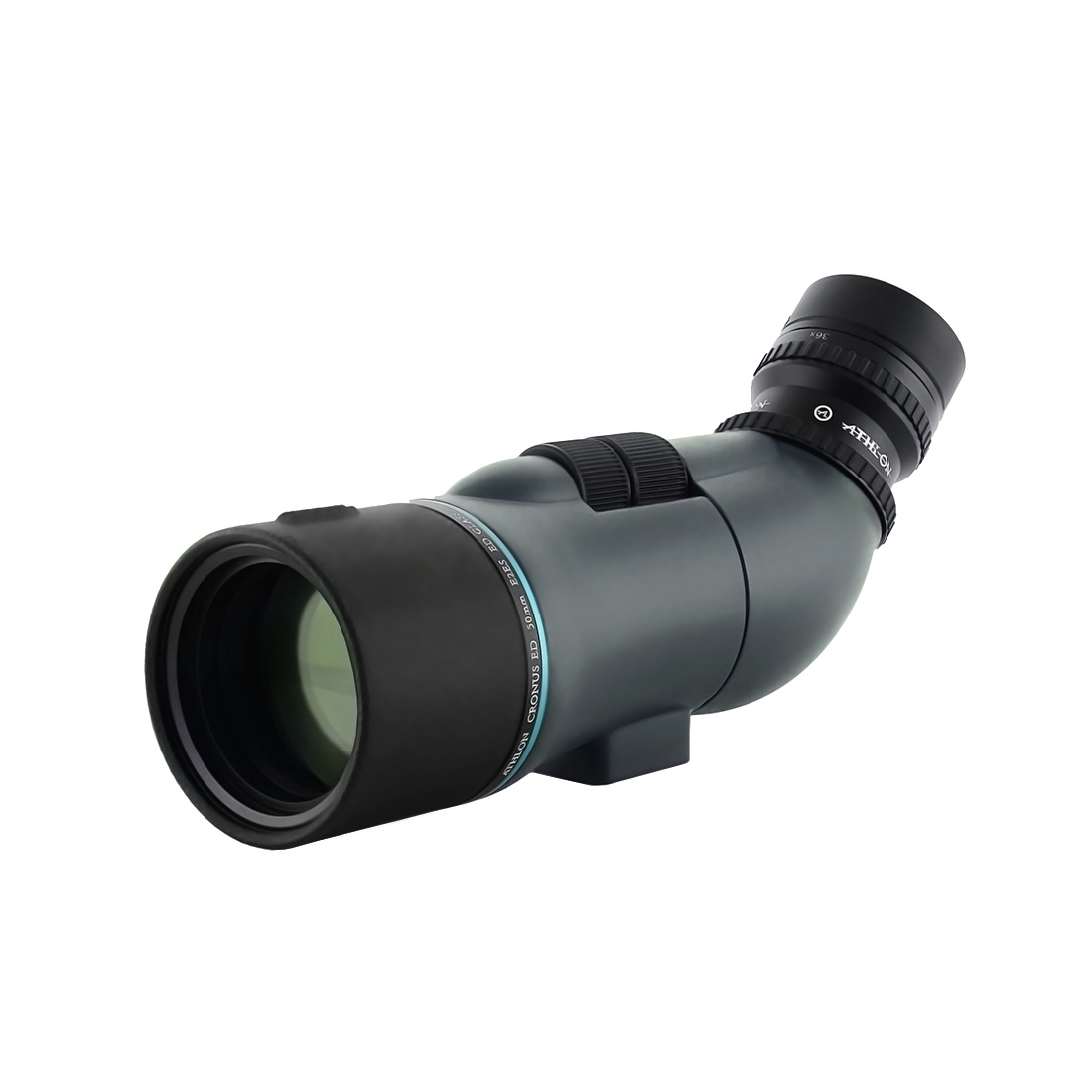 #311002 Athlon Cronus 12-36x50 ED Spotting Scope
reduced from $699.99 to
only $499.99
This is a great, small packable spotter that weighs only 26.5 ounces and is less than 10" long. At $699.99 it was priced right with the quality it is and the features of this great spotter. We are blowing these out, for a limited time, for only $499.99. At this reduced price there is NOTHING that comes close to this unit. It is a must buy deal in a sub-compact spotter.
Athlon developed the Cronus 12-36×50 UHD to give you one of world's best spotting scopes with brighter and clearer edge-to-edge detail. Whether you're hunting above timberline in Alaska, or birding at sea level at Cape May, you will know every detail of your trophy before you take the shot or mark it off your life list. The Cronus product line has just about every feature you would put in a scope to make it the best you can get in its class. We designed the Cronus with Apochromatic system to give you images that have greater contrast, sharpness, and color definition. We included Extra-Low Dispersion Glass that results in a clearer and sharper image. Our state of the art ESP (Enhance Spectral Prism) dielectric coating reflects 99% of the light through the prism assembly. Other design enhancements include BaK-4 prisms and our Advanced Fully Multi-coated lenses that deliver flawless color fidelity, ultra-crisp images, and optimum light transmission. Finally we topped it off with our XPL lens coating that protects the exterior lenses from scratches, dust, and anything else mother nature throws at you.
Aprochromatic Lens System Apochromatic lense system gives you the result of images which have greater contrast, sharpness and color definition
UHD Glass Extra-Low Dispersion glass gives you an image with little or no chromatic fringe so the final result brings an ultimate clearest and sharpest image to your eyes
ESP Dielectric Coating ESP Dielectric Coating is a multi layer prism coating that reflects over 99% of the light to your eyes bringing you a clear, bright image that displays accurate color reproduction.
Magnesium Chassis Magnesium chassis give you the strength of a metal chassis while reducing the weight as much as 30%
XPL Coating XPL Coating gives you an extra protection on the exterior lenses from dirt, oil and scratches
Bak4 Prism Bak-4 glass prisms reflect more light to your eyes which will give you brighter and sharper image.
Advanced Fully Multi-Coated Advanced Fully Multi-Coated lenses gives you better light transmission to bring optimum brightness and true color across the entire light spectrum.
Argon Purged Argon Purging uses the inertia gas with bigger size molecules to purge any moisture out of the tube giving you better waterproofing and thermal stability .
Waterproof Waterproof to protects the binocular in the harshest weather conditions or if accidently submerged underwater
Dual Focus Dual focus has dual speed focus knobs that offer both faster and finer focus adjustment
Specs:
Magnification 12-36
Objective Lens Diameter 50 mm
Prism Glass Bak 4
Apochromatic Lens System Yes
ESP Dielectric Coating Yes
XPL Coating Yes
ED Glass Yes
Lense Coating Advanced Fully Multi-Coated
Field of View 171-90 ft
Exit Pupil 4.1-1.4 mm
Eye Relief 0.7-0.59"
Close Focus 26.2′
Dimension (LxW) 9.8"X2.6"
Weight 26.5 oz
We've got MANY other deals going on so please just give us a call, 516-217-1000, to discuss the Optic, Camera or Tripod you're looking for and we will hook you up.
Check out our Recent Sales Flyer
We appreciate all the orders and support. Please stay well and safe.
If there is anything you're looking for please give us a call at 516-217-1000. It is always our pleasure to speak with you.
Always give a call to discuss options and what would be best for your needs
Have a great day & please follow us on Instagram at gr8fuldoug1
Thank you for your continued support.
If there is anything else that I can assist you with please let me know.
Doug
Camera Land
720 Old Bethpage Road
Old Bethpage, NY 11804
516-217-1000
Please visit our web site @
www.cameralandny.com